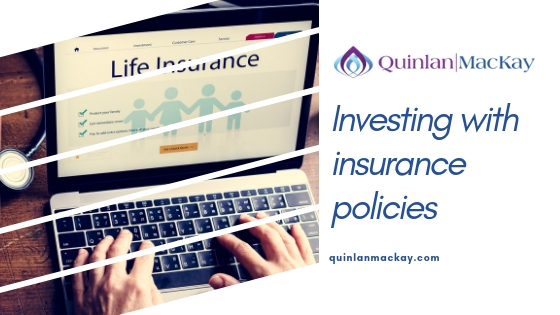 Insurance is an investment in security. Most adults have car insurance, renters' or homeowner's insurance, health insurance and life insurance. Depending on one's lifestyle and career, many people have travel insurance, flood insurance, liability insurance and pet insurance, too. If there is a car accident, the insurance company helps you pay to fix or replace your car. If there is a fire or flood, the insurance company pays to fix or rebuild your home.
Generally speaking, insurance provides you with the ability to invest in the unknown future. However, certain types of insurance allows you to invest in more.
Permanent life insurance offers death benefits and cash value that can be used for additional investment opportunities like stocks, bonds or real estate. Permanent life insurance is an umbrella term for insurance policies that cover the policyholder as long as the premiums are being paid. Many of these plans such as whole, universal and indexed universal insurance offer a cash value similar to a savings account.
Types of permanent life insurance
Whole life insurance

is a broad term that includes the insurance policies that cover the policyholder's death benefit and cash value. As you pay the premium, you're also paying toward the death coverage and cash value of the policy. Over the life of the policy, you end up paying more for the cash value and less for the fees associated with the death benefit. This is why whole life insurance costs six to 10 times more than term life insurance; you can receive cash value of the policy in addition to the death benefit.
Universal life insurance

, like whole life insurance, gives you a death benefit and cash value. However, policyholders can change their death benefit and premium without changing their policy. Policyholders can also use the cash value of the policy to pay the premium itself. Even so, universal life insurance is sensitive to the current market interest rates. When interest rates go up, the premium must go up, too, to offset the reduced cash value.
Indexed universal life insurance

is even more complex than universal life insurance. It allows policyholders the opportunity to allocate all or part of their paid premiums to a cash account. This cash account gains interest according to its associated equity index, with a floor of 0% return, meaning the policyholder will not lose money if the index reduces in value. The cash account also has a cap rate if the index skyrockets in value.
It is important to note that this type of life insurance is often seen as a retirement savings vehicle rather than just life insurance due to its risk factor. However, it is closely tied to investing, which serves a unique purpose in the life insurance industry.
How does it work?
Permanent life insurance policyholders can borrow against their policies for a variety of reasons, such as paying for medical bills, coverage of an emergency and investment options. Although the act of "borrowing" is technically a loan, this may be an option to expand your investment opportunities in the short term.
Benefits include no credit check or timetable to return the funds, and a low interest rate.
However, taking a loan from your permanent life insurance policy has a few drawbacks. Essentially, you are borrowing from your future self, which means you may have a reduced payout upon death. You can also lose all coverage if the interest upon the loan exceeds the cash value of the remaining loan, which will cause the policy to lapse. If the policy lapses, you may have to pay taxes on the remaining loan amount due.
Is it worth it?
If done right, investing with the cash value from an insurance policy can help your investment portfolio grow in the short term. More importantly, it's key that you learn about your options within your specific life insurance policy. Not all permanent policies will allow you to borrow from them. It's also important to weigh the investment opportunity itself with the risk involved by taking a loan from your permanent insurance policy.
If you do decide to borrow from your life insurance policy, watch the interest as it accrues on the loan, especially in terms of your investment. If you are spending more money to take the loan out than you are receiving in dividends from the investment, consider pulling the investment itself and paying back the loan in full in order to cut your losses.
Before choosing your life insurance policy, speak to your financial adviser about your long-term financial goals, risks and the benefits with investing. Also speak to your family, especially your spouse, if you are married. When it comes to life insurance, security for the loved ones you leave behind is often more valuable than investment returns. So, ask yourself: is it worth it?