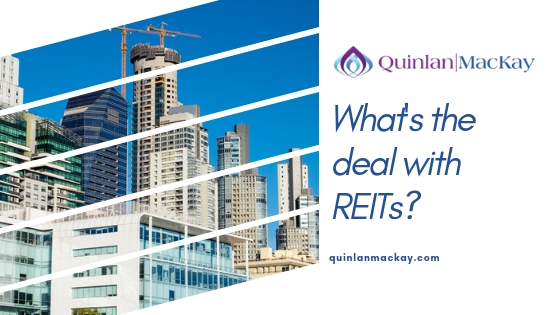 Investing in real estate provides a great opportunity to grow your money. Real estate offers a predictable cash flow, is tax deductible, has a higher return and offers equity growth. But there's a lot of administrative and legal work involved in real estate. It often includes a marketing campaign to find a buyer, negotiating complex terms and funding the deal. Many investors want to be hands off, so they invest with a real estate investment trust (REIT) because it behaves like a stock.
A REIT – pronounced 'reet' – is a company that owns or finances income-producing real estate in a range of property sectors. Most REITs are publicly-traded companies (although some are private, so make sure you know the difference) that invest in a variety of real estate property types, such as apartment buildings, hotels, data centers, retail, offices and warehouses. REITs allow individuals to invest in portfolios through the purchase of individual company stock, a mutual fund or exchange traded fund (ETF).
Essentially, you can earn income without having to buy, manage or finance property.
The return on investment with REITs
According to the Securities and Exchange Commission (SEC), REITs must pay out at least 90 percent of their taxable income to shareholders. The rule states, "To qualify as a REIT, a company must have the bulk of its assets and income connected to real estate investment and must distribute at least 90 percent of its taxable income to shareholders annually in the form of dividends."
At face value, this sounds like a good deal. Who wouldn't want to see guaranteed dividends at 90 percent? But, that's not exactly how it works. The payouts are not generated from the company's earnings. They come from "taxable income." Meaning, shareholders end up paying the income tax on those dividends.
NASDAQ defines a dividend as "your share in the profits of a company you own." In the case of REITs, dividends don't have anything to do with earnings.
As investors, we aren't privy to a company's tax returns. We get to look at the financial results according to generally accepted accounting principles (GAAP). This is where an asset's cash flow and earnings is determined. So, when we look at a REIT's GAAP earnings, we see cash flow statements which outlines what a company does with the money it earns. It's not uncommon to see REITs that haven't made any money or even negative GAAP earnings.
This largely explains why many REITs produce low payout ratios. The payout ratio is the percentage of net income that a company pays out as dividends. It may be 5, 10 or 20 percent. When looking at the company's cash flow, the REIT does not have to pay a dividend because they didn't make any money.
What's your investment style?
Understanding the level of commitment you want to make in real estate is always beneficial when making decisions. Do you want to actively manage your investments or have someone manage projects on your behalf? How much of a risk are you willing to take, and how much capital do you have to invest? Do you want the option to be able to do background research? Your answers will help determine if REITs, off-market real estate projects or another investment option is the best choice.
For example, with off-market real estate you have a say in the projects you want to invest in and have more time to make a decision. Returns are typically larger than what REIT investors see. You'll also have a smoother time when it's time to file your taxes because you can take advantage of tax breaks such as writing off depreciation.
REITs on the other hand may be more appropriate for new investors with limited experience and where up-front capital may be a challenge. But, as with all investments, diversification is key. REITs often specialize in a single property type like apartment rentals, and any weakness or downturn in the market could wreck your portfolio. In healthcare, REITs do well over time because of an aging population and the demand for elder care. But, brick and mortar stores face competition with online retailers and increased vacancies pose challenges.
Additionally, as with any investment in stock, it's important to be aware of the instability of the market or potential of another financial crisis. This can cause fluctuations in revenue.
In the end, it boils down to the amount of risk and responsibility you can handle. Off-market, Class A real estate projects like those offered by Quinlan MacKay allows you to pick projects with a preferred, and larger, return to investors. Plus, your money isn't locked up over long-term periods. Investment becomes an easy and enjoyable experience.